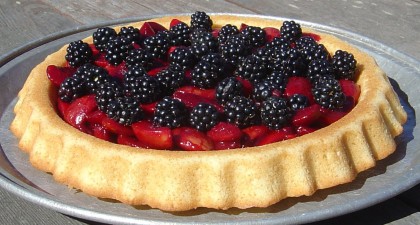 A lot of people here in Santa Cruz have plum trees, and although it varies from tree to tree which particular week during the summer suddenly their hundreds if not thousands of plums all become ripe at once, once it happens then there is a race against time to make huge batches of jam or otherwise put them to good use before your yard starts to smell like wine from all the plums that have fallen off the tree and fermented in the sun. (There's a group "The Santa Cruz Fruit Tree Project" you can enlist to harvest and share your surplus fruit instead of letting it go to waste, and Fairytale Farm even offers classes in "what to do with the 100s of plums that just became ripe".)
I haven't tried making plum jam yet, but I've definitely been a member of the "plum baked goods of the day club", cranking out the plum muffins, cakes, pies, cobblers, crisps, and clafouti in an attempt to keep up with all the plums. This summer's plum crop lasted pretty much until the end of August, when I picked most of the remaining not-too-far-gone plums for the cake shown above.
And blackberries grow wild all over coastal California and the Pacific Northwest — it really is yet another wonderful part of summers here that I can just walk out the door and pick a bunch of nice, fresh berries, without ever having planted any in the first place or even having done anything to care for them.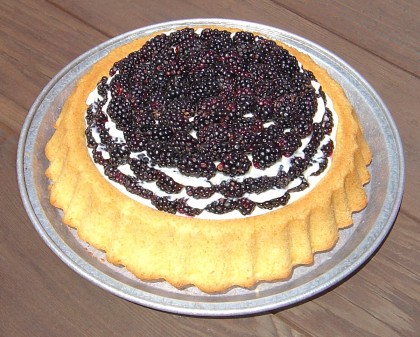 To explain the "Tiara" part, well, back in the '70's Duncan Hines put out a "Tiara Desserts" line of cake mixes, to be baked in co-branded Baker's Secret torte/tart/ flan- style "Tiara Pans" for making cakes that — when you flip them over, and as shown in these photos — have a flat top with a lip around it for loading up with your filling or topping of choice. With the cake mixes, this would be a can of pie filling or some mousse/ pudding, but this form factor of cake also makes a great base for fresh fruit, as with this olallieberry-mascarpone cake I made a while back.
I got my tiara pan at a garage sale, but you can also find plenty of tiara pans on eBay
, or for that matter you could just get a torte
, tart
, or flan pan
(as long as you make sure it's one that has the lip — not all of them do — rather than just a completely-flat bottom).
I like to use a pound cake recipe as the tiara cake base:
Pound cake is a sturdy cake that holds up well to being heaped up with fruit, and being cut and served in slices that keep their shape rather than falling over or crumbling into pieces.
Pound cake is a very fool/fail-proof cake, that rises well and comes out perfectly in pretty much any type of pan.
Pound cake is very amenable to having all sorts of extras added to the batter, for example extracts, grated citrus peel, chocolate chips, and/or chopped nuts.
However, when looking at the tiara pan and how shallow it was, I couldn't remember whether I had used a whole pound cake recipe ("whole" here referring to loaf-pan pound cake size, as opposed to a tube pan or other larger pan) or divided the recipe in half the last time I had baked with the tiara pan. (Yes, that is a reason to write these kinds of things up on your food blog.) I started to set out the ingredients, and realized that I only had enough flour in the house for half a recipe anyway, so the die was cast, as it were.
If you look at the two cake photos above, even though I didn't take them at the same angle, you can see that the cake part of the second cake is quite a bit taller than it is on the first cake, and therefore I had previously been using the whole recipe, and that's what I'm going to feature in the recipe below. If you do want less cake with your fruit, you can go ahead and divide the cake part of the recipe back in half, but only if you're using an actual tiara pan or one very close in size — 9 inches at the narrow end of the flare and 10 inches at the wide end. If you're using, for example, an 11-inch flan pan, then you should use the whole cake recipe so as to have a sufficient amount of batter for the larger pan.
I could have just sliced the plums directly onto the cake, but I wanted to cook them a little first so that they would be a bit softer, plus have their own glaze for a pretty presentation where they would hold together instead of just falling off when you're slicing the cake.
Blackberry-Plum Tiara Pound Cake
A great summer cake, with plums and blackberries from the garden.
Cake ingredients
1 cup

of

butter

(also known as two sticks or a half pound)

1 cup

of

sugar

1 teaspoon

of

vanilla

½ teaspoon

of

salt

any other flavorings

that you would enjoy with the fruit, for example

a teaspoon

of cinnamon, lemon extract, or grated orange peel — personally for this recipe I just cooked such things with the plums, but you could certainly add them to the cake as well if you like

4

eggs

(I always use extra-large eggs for baking)

2 cups

of

flour

1 teaspoon

of

baking powder
Topping ingredients
sliced plums

(don't bother peeling them)

sufficient to fill the top of the cake

— our tree's plums are small enough that I used thirty, and cut them into quarters while removing the pits, but forty would probably have been even better

¼ cup

of

sugar

1½ teaspoons

of

cornstarch or arrowroot flour

1 teaspoon

of

cinnamon

again, any

more spices or grated citrus peel

that you would enjoy with the fruit

a bowl or basket

of

blackberries
Instructions
Cream together the butter, sugar, vanilla, salt, and any other desired flavoring ingredients, such as cinnamon or grated lemon peel, in a large mixer bowl or other large bowl. I use a Kitchenaid mixer to, um, whip it, whip it good, in its big mixing bowl, but I certainly made a lot of cakes just using arm power before I got it.
Cream in the four eggs, adding them one at a time.
Add the flour and baking powder to the bowl, and thoroughly mix everything together.
Spoon and spread the pound cake batter evenly around into your greased tiara or torte/tart/flan pan, and bake it in a preheated 350° oven, setting the timer for 25 minutes and then checking it every few minutes until it tests done.
Put the sliced plums, sugar, cornstarch or arrowroot flour, cinnamon, and any other desired spices or grated citrus peel into a saucepan, and stir over medium heat until the plums are a little tender and the resulting liquid has thickened into a nice glaze.
Place a platter upside down on top of the cake in its pan, flip them both over while holding them tightly together, and lift the pan off the cake so that the "lip" side is on top waiting to be filled.
Spoon and spread the plum filling/topping evenly around inside the "lip" of the cake.
Artistically place the blackberries one at a time all over the top of the plums (they will stick to the glaze nicely).
Slice the cake as desired (if you were me you would cut it into eight slices), and serve with or without scoops of ice cream.
updated November 29, 2013