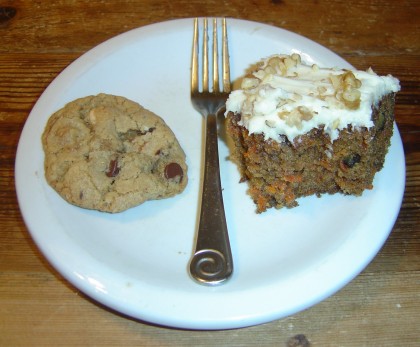 Today is my son Sam's 25th birthday! When I asked him what kind of birthday cake he would like me to make for him, he requested carrot cake, and I also made him a batch of chocolate-chip- caramel-balls-marcona-almond cookies.
When he had blown out his giant candles, and we were eating our first slices of his birthday cake, I thought, well duh, there's the name of my food blog right there, and I put one of the cookies next to my partially-eaten slice of carrot cake to take this picture.
(One-month-later update: I just posted the recipe for the cake in my Two Birthday Carrot Cakes entry, and will do the same for the cookies in a future posting.)
Happy birthday to Sam!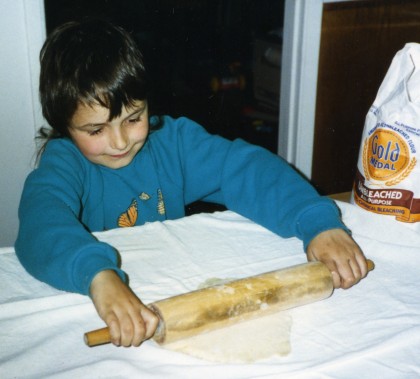 So last Friday was my son Arthur's 19th birthday, and again, today is my son Sam's 25th birthday! Here you can see him rolling out a pie crust back in June of 1995, when he was six and three-quarters years old.
Sam has always been very ahead of his time, and at the age of six he even had his own food blog of sorts: Sam's Amazing Cookbook. I had used this photo to make a banner for him, but he did all the rest of the graphics himself using KidPix.
These days Sam spends a lot more time creating web pages and computer games than baked goods, but he does have a gallery of many of his more-recent vegetarian baking and cooking creations on Facebook.
And another happy birthday to you, Sam! I love you, and it's been wonderful being your mother for 25 years, and I look forward to the next 25, and next, and so on!
updated October 26, 2013