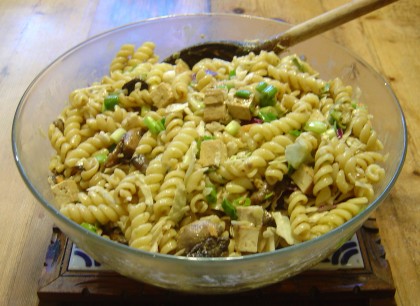 Dan-dan noodles are a longtime favorite in my house: Very fast and easy, and I like to make a great big batch so there's enough both for all-you-can-eat delicious hot dinner one day, and then delicious cold noodle salad leftovers the next day. It also makes a very nice dish to bring to those few events where there's some reason that I shouldn't bring cookies.
This is my version of the Americanized sesame-peanut-sauce noodle dish found in Chinese/noodle restaurants in the US, rather than traditional Chinese dandan noodles, which I have never actually run across, so bear that in mind.
Also, the recipe below is for the quantity shown in the large glass serving bowl above (which made for two helpings each for three adults). Usually I make double this amount (and sometimes even four times as much, if I want to be able to bring a big batch to an event and leave a big batch at home), but as it was I had an "oops, I only have one pound of dry pasta in the cupboard instead of two" moment, plus I assume that this would be a more reasonable batch size for most people's purposes anyway.
Dan-Dan Noodles
Ingredients
1 pound

of

your choice of dry pasta/noodles

— long and thin, short and cleverly-shaped, whatever you like, each kind has its own charms

¼ cup

creamy or crunchy peanut butter

2 tablespoons

soy sauce or tamari

2 tablespoons

toasted sesame oil

2 tablespoons

rice vinegar or other vinegar

of choice

1 tablespoon

sugar

4 or so cloves

of

garlic

about a square inch

of

fresh ginger root

a couple

tiny hot peppers

a handful

of

basil leaves

if you have them

½ bunch

of

green onions

one 6 to 8-oz package

(or amount you made yourself) of

pressed/baked tofu

(I use Wildwood brand "Royal Thai" flavor)
Instructions
Put on the stove, on high heat, enough water in a large enough pot to cook the pound of dry pasta. While you're waiting for the water to come to a boil, you can get all your prep done.
Combine in a small pot the peanut butter, soy sauce or tamari, sesame oil, vinegar, and sugar.
Chop up the garlic, ginger root, hot peppers, and basil very finely together (in a food processor or otherwise), and then add them to the pot.
Coarsely chop the Anaheim pepper (or other large, mild pepper) and add it to the pot.
Bring the mixture in the pot just to a boil, and then turn off the heat — you want the sauce to be hot and well blended together, but the spicy ingredients to still have a bit of a raw bite to them.
And of course whenever the water starts boiling, use it to cook the pound of noodles. :-)
Dice the green onions and the pressed/baked tofu.
When the noodles are done cooking, drain them and mix everything together in a large bowl or pot.
Want to mix in even more stuff? Go for it, whatever you feel like! The above is my base recipe, but I often throw in additional ingredients — for example, in the batch I photographed above, I had added/cooked a half pound of sliced mushrooms in with the pot of sauce, and mixed in two cups of chopped cabbage with the green onions and tofu at the end. When my children were little and loved baby corn, I would put in a drained can of baby corn. Chopped peanuts sprinkled on top is classic. Chopped bok choy, little broccoli florets, or more basil leaves are also good — follow your tastes and instincts.
Enjoy!
updated October 28, 2013