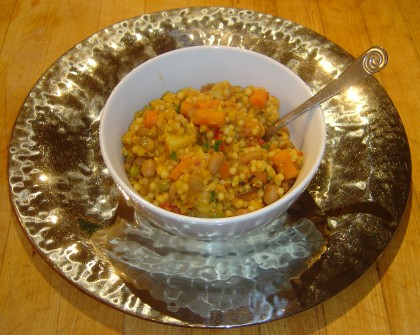 At New Leaf last night I picked up an 8.8-oz bag of dry Israeli couscous — a product I had read about but not actually tried before.
The kind of dry couscous I'm used to looks kind of like crumbs, sand, or dry polenta, but to my inexperienced eye the Israeli couscous looked like the tiny white polystyrene balls used in bean-bag chairs and some packing material, that static-cling all over everything to the point of it being hard to get all of them off.
Having once again brought home quantities of surplus carrots, potatoes, and green onions from Games Group, this evening I made another batch of Lentil-Vegetable Soup — though as usual it varied to suit the ingredients on hand (for example, I didn't have any celery this time) — and then added the Israeli Couscous to turn it into a savory pasta dish:
Lentil-Vegetable Israeli Couscous
Ingredients
3 large

carrots

2 medium

potatoes

2

long anaheim-style

sweet green peppers

1 bunch

of

green onions

6 cloves

of

garlic

2 tiny

hot peppers

A

15-oz can

of

diced fire-roasted tomatoes

(or other tomatoes)

1 cup

of dry red lentils

2 teaspoons

of

salt

1 teaspoon

of

Penzey's Ozark Seasoning

(or other seasonings of choice)

2 teaspoons

of

Penzey's Sweet Curry Powder

(or other curry powder)
A (drained, rinsed)

15-oz can

of

pinto beans

(or other beans – this was because I had recently eaten a batch of Madras Lentils that included some red beans in with the lentils)

An 8.8oz package

(or comparable) of

dry Israeli Couscous

1 tablespoon

of

chopped cilantro

Water

, of course :-)
Instructions
Slice and dice the carrots, potatoes, sweet peppers, and the white ends of the green onions, into a 3½-quart or larger cooking pot.
Finely mince the garlic and hot peppers in a food processor or otherwise, and add those to the pot.
Mix in the can of tomatoes, dry red lentils, salt, and other seasonings, and add water to cover.
Bring to a boil, and then turn the heat down and cover the pot, to let it simmer until all the vegetables are tender, and the lentils have pretty much just turned into a thick broth.
Add the package of dry Israeli couscous, another cup of water (because the couscous will absorb a bunch of the liquid), and the (drained, rinsed) can of beans.
Let simmer for another ten minutes or so, until the couscous is done, and has absorbed most of the liquid.
Turn off the burner, and finish by adding the diced green ends of the green onions, and the chopped cilantro.
It was very tasty, and I enjoyed the chewy texture of the Israeli couscous — if you've never had it before either, you might like to give it a try!
updated November 5, 2013