One of the many wonderful things about AFE Games Group is that people bring not just cookies and carrots and candy to share, but sometimes even pretty substantial quantities of surplus produce from their gardens (or CSAs, or elsewhere).
And so, one Friday last month when the fabulous Becky brought a grocery bag of carrots, celery, potatoes, bok choy, and romaine lettuce to Games Group, I had a college-days flashback of buying one each of a variety of vegetables at the food co-op to make very cheap soup, and yes, decided to make some soup.
Lentil-Vegetable Soup
I took a 3½-quart dutch oven, and sliced and diced into it:
three large
carrots
three ribs

of

celery
half

of one of my son Arthur's Whitman College

onions

(can you say "mirepoix"?)
two medium
potatoes
two

long anaheim-

style

sweet green peppers

from the greenhouse
Then I ground up in the Cuisinart …
six cloves

of

garlic

two tiny

hot peppers

from the greenhouse
… and added them to the pot as well. Finally I mixed in: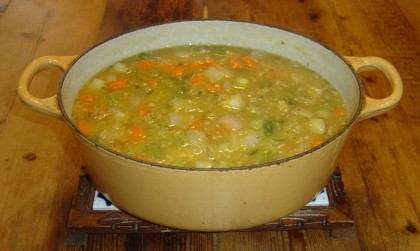 I brought the soup to a boil, and then turned the heat down to let it simmer, covered, until all the vegetables were tender, and the lentils had pretty much just turned into a thick broth.
What can I say, it was good!
October 11 update: I just made another post, "Israeli Couscous", about using Israeli couscous to turn this soup into a savory pasta dish.
updated October 11, 2013