"If a creative and artful cook invents something and calls it pie, I'll call it pie." – Sue Hubbell, writing about Nantucket Cranberry Pie in "The Great American Pie Expedition".
For the visual, here's a fresh-out-of-the-oven Nantucket Cranberry Pie I baked two days ago.
"Someday we would drive around the country on back roads and eat pie. It would be the Great American Pie Expedition." – Sue Hubble
Sue Hubbell's "The Great American Pie Expedition" would count as a major dream life achievement for an awful lot of people I know: Going on a big cross-country eating-pie-and-collecting-recipes roadtrip with your dog, writing it up as a fondly-remembered article in an issue of The New Yorker with a cover by Charles Addams, and then later collecting it along with some of your other magazine writings in a book with a title Tolkien fans would enjoy: From Here to There and Back Again
When the March 27, 1989 issue of The New Yorker came out, my son Sam was only six months old, and as that issue used to sit on top of a stack of other The New Yorker issues in a crate next to the refrigerator, "The Great American Pie Expedition" was very conveniently placed as a cookbook.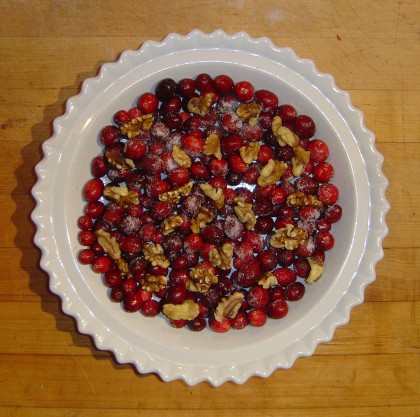 Nantucket Cranberry Pie wasn't the only one of the recipes I had tried — "Shaker Lemon Pie", for example, was interesting but didn't really grab me — but it was the recipe I kept baking over and over again. It was very simple to make — basically a bag of cranberries sprinkled with sugar and walnuts, and then some sweet batter spooned on top — an ideal use for your stockpiled bags of frozen cranberries.
About six years later we moved to our current house, and that The New Yorker issue with its bell-ringing bunnies has not been seen since. Thoughts of Nantucket Cranberry Pie gradually passed from my mind, and it was only a few years ago that I made a try at recreating it, looking for recipes online that seemed more or less similar to what I remembered. Even more recently, I did find the recipe again online, and as you can see from the pictures, just baked one up using one of the many post-Thanksgiving bags of cranberries in the refrigerator.
As any appearances of the name "Nantucket" seem to require limericks, here's try number one:
There once was a pie from Nantucket,
Where cranberries grow by the bucket.
It was sour, it was sweet,
Now there's none left to eat.
Please bake one more pie from Nantucket.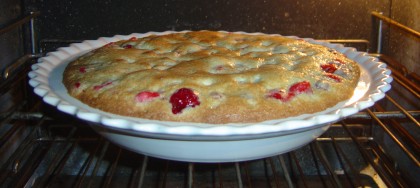 You can do it right now, you know, because you can read both the recipe and Sue Hubbell's story about it online, in Google Books' preview of From Here to There and Back Again. Yes, soon you too can have cranberries bubbling away in your oven just like this.
updated December 18, 2013