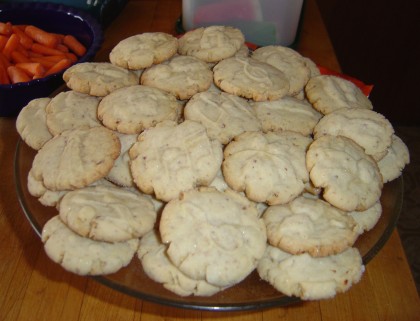 In honor of it being my son Arthur's 19th birthday today, I thought I would post another vegan cookie recipe — note that in line with the name of this blog you can also see a pretty cake pan of baby carrots set out next to the platter of cookies.
These vegan maple- pecan cookies are actually a variation on the vegan vanilla-bean cookies in my previous posting, using maple syrup and maple extract instead of the vanilla beans, and ground pecans instead of the ground almonds — here's how that worked:
Vegan Maple-Pecan Cookies
Ingredients
1 pound (4 sticks)

of

Earth Balance Vegan Buttery Baking Sticks

½ cup

of maple sugar or white sugar (sometimes my local natural-foods grocery has bulk maple sugar and sometimes it doesn't)

¼ cup

of

maple syrup

1 tablespoon

of

natural maple extract

1 cup

of

finely-ground pecans

(I used the Cuisinart to grind them into a fine meal)

5 cups

of

flour
Instructions
Cream together the Earth Balance, maple or white sugar, maple syrup, maple extract, and finely-ground pecans.
Mix or knead in the flour.
To repeat my grandmother Mimi's baking instructions on her original vanilla bean cookies recipe (that this recipe is a variation on):



Mix ingredients and shape dough with hands into desired shape. Roll in granulated sugar and place on ungreased cookie sheet.

Bake about 10 min. in 350° oven.
I'll also repeat that while Mimi used to shape her vanilla bean cookies into crescents, what with my being very into cookie stamps (something I will talk about in a future posting), with the cookies you see in the picture above, I rolled the dough into balls, rolled the balls in sugar, and then used my cookie stamps to flatten and decorate them.
I had wondered what effect the increased amount of liquid from the maple syrup and extract might have on the cookies, and was quite pleased to find that it actually made the dough much easier to work with, and (in my opinion) improved the texture of the cookies as well. Definitely a keeper!
Happy birthday to Arthur!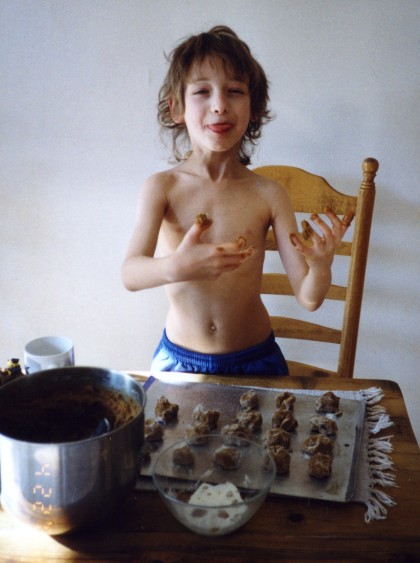 Here you can see my son Arthur making cookies back in April of 2001, when he was six and a half years old. Well, today he turned 19, and as a first-year student at Whitman College in Washington, it was his first birthday away from home and old friends and family.
While it can be rough having Arthur so far away (not even getting to hug him and bake cakes for him on his birthday! :-(), at the same time Whitman seems like a really ideal college for him, including having lots of good vegan food for his longtime-vegan self. When I talked with him on the phone this evening, he said that in addition to all the vegan food in the cafeterias, they had baked some vegan brownies a few days ago in his residence hall. He also said that one of his Whitman friends was wanting to read my new food blog, so here's a post for her to read. :-)
And another happy birthday to you, Arthur! I love you!
updated October 27, 2013