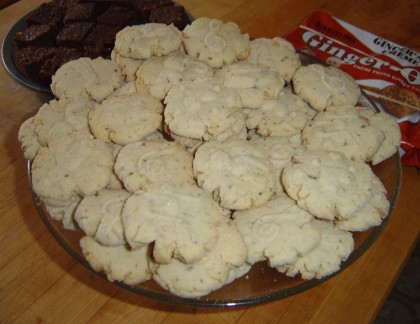 In this posting I'll talk about how easy it was to adapt my grandmother Mimi's Vanilla Bean Cookies recipe so that my vegan son Arthur could eat them — now I can stop feeling silly that my new "Cookies and Carrots" blog doesn't actually contain any cookie recipes yet! Cookie pride! Vegan cookie pride!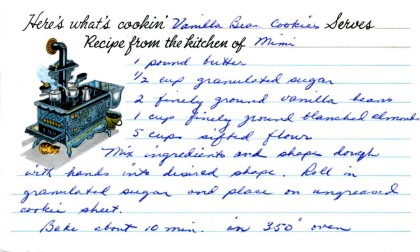 In the About page for this blog I talked a little about my grandmother Mimi and her cookies. Well, a while back my mother mailed me a few of Mimi's cookie recipes Mimi had copied onto recipe cards for her many years ago, and one of them was her "Vanilla Bean Cookies".
The cookies are great, but the "adapting to vegan" part is actually pretty anti-climactic, because for any cookies that don't contain eggs in the first place, all you have to do is use Earth Balance Vegan Buttery Baking Sticks (or Earth Balance Soy Free Vegan Buttery Sticks) instead of butter. Seriously, click the link to read about Earth Balance, pick some up at your local store, and yeah, as far as the eggless cookie recipes go you are now an accomplished vegan baker, no problem!
Vegan Vanilla-Bean Cookies
Ingredients
1 pound (4 sticks)

of

Earth Balance Vegan Buttery Baking Sticks

½ cup

of

sugar

2

finely-ground vanilla beans

1 cup

of

finely ground blanched almonds

(Trader Joe's sells this in bags, as "Finely Ground Almond Meal/Flour, from Blanched Whole Almonds")

5 cups

of

flour
Instructions
Cream together the Earth Balance, sugar, and finely-ground vanilla beans and almonds.
Mix or knead in the flour.
Mimi's instructions on the card are:



Mix ingredients and shape dough with hands into desired shape. Roll in granulated sugar and place on ungreased cookie sheet.

Bake about 10 min. in 350° oven.
Mimi used to shape her vanilla bean cookies into crescents, but with my being very into cookie stamps (something I will talk about in a future posting), with the cookies you see in the picture above, I rolled the dough into balls, rolled the balls in sugar, and then used my cookie stamps to flatten and decorate them.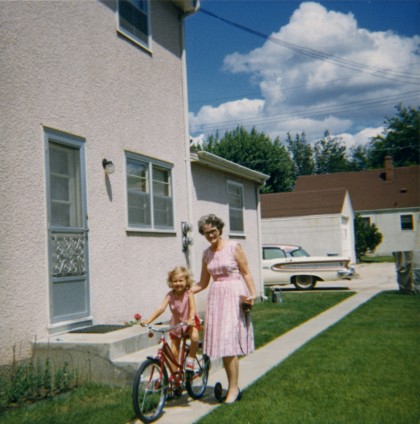 I don't have any photographs of Mimi with her cookies, but here's one of the two of us together back in 1965.
By the way, this month (September) is Vegan Month of Food, aka VeganMoFo. I can't officially participate, as this blog is not all vegan, but I recommend that all those interested in vegan recipes and writing check it out.
updated October 27, 2013