About the VeeWee * VeeWee links * Buying a VeeWee * Maestro Mini-V * Daisy Rock Debutante Star
Let's take the time machine back to early 1999 when I had recently gotten two nice guitars: my Fender Venus and Martin Backpacker. One day I saw an Epiphone Flying VeeWee and thought that although my children hadn't shown any interest in guitars, if I got a low-priced mini-guitar like the VeeWee the short scale would probably be more appropriate to their hand sizes if they or any of their visiting friends ever did want to play, and if there was a designated children's guitar then I wouldn't worry about anyone messing up my other guitars. And to be even more shallow about it, I knew that the red and black VeeWee would look great in my red and black living room. :-)
So I bought one on eBay. At first I was playing it a lot myself, because the small size and "V" shape made it ideal for perching in my lap while I was doing things like reading email or playing board games -- when my hands were busy with something else the neck would rest on one leg and the inside of the V sit against the other, and then when I was between messages or turns it was right there for me to play. But after a while I realized that getting used to the short scale was kind of messing up my feel for standard fretboards, so I stopped playing it so much.
The VeeWee is a tiny thing, only 32 inches high. Although it has a full-width neck, the 19-inch short scale means that the frets are closer together than they would be on a standard-sized guitar, and that it should be tuned to GCFA#/BbDG (the Gibson/Epiphone web site has a diagram on tuning to GCFA#DG and some common transposed chord forms) or ADGCEA instead of the standard EADGBE, because the latter would make the strings too loose on the short neck. So if it would drive you crazy that, say, when you played an "E" note or chord it would actually be a G or an A (you would have to do some transposing if playing along with others or with recorded music), or if you would be unable to tune to either of those tunings, I would say that the VeeWee is definitely not for you. (On the other hand, if you also have a ukuelele, you're probably very used to that kind of thing!)
New VeeWees are sold in "Rave Rig"
(the red VeeWee shown above) and "Zakk Pakk"
(the black-and-white-bullseye design shown below) packages which include a battery-powered mini-amp, strap, gig bag, and cord in addition to the VeeWee, but as the eBay auction I got mine in was for the VeeWee guitar only, I don't know anything about the quality of the amp and gig bag.

VeeWees used to be available in black ("ebony") in addition to the red model shown above, but as of February 2010 Epiphone had discontinued the black model and was only making them in red. However, in fall 2010 Epiphone released a "Zakk Pakk" VeeWee
featuring Zakk Wylde's signature bullseye graphic in a very striking black and white as shown here. (For even more colors, check out the section below on the Maestro Mini-V.) Although the V shape has been billed as "futuristic" ever since the first Flying V/Vee was made in 1958, to me this tiny version looks like some kind of pictograph of a child, with the points of the V being two legs running along. And of course it has a head and a neck, you hold it in your arms, it's little, it looks bright and energetic, you get the picture!
Soooo ... have my children actually ever played it, you might ask? Well not yet, anyway (and one of them in particular does not like the idea of what guitar strings do to an unaccustomed fretting hand), but some of their friends and relatives do now and then. And you never know when it might come in handy. And it was cheap. And it does help to make the living room look like a fun place. And I do like having it around, even though it's not my favorite guitar. We'll see ...
Epiphone put out a press release about the VeeWee on October 28, 2005, though it had been around for many years before that. (Epiphone also has a VeeWee product page, but the press release is much more informative.)
Gibson/Epiphone's Flying-Vee Wee Rave Rig page is pretty much just an illustrated blurb.
Epiphone's news release on the new "Zakk Pakk" bullseye-design VeeWee is much more extensive, with very detailed specifications for both the guitar and amp.
The Unofficial Epiphone Guitars Wiki's Flying Vee-Wee section and Flying Vee-Wee Zakk Pakk section are pretty much just lists of specifications along with photos.
Although Musician's Friend
no longer carries the red VeeWee (only the bullseye-patterned "Zakk Pakk"
), they still have a red VeeWee page including a large number of reviews
.
Harmony Central's extensive database of guitar user reviews includes ten VeeWee reviews. In fact, one of the reviews details how the reviewer modified the VeeWee to be a lap-steel guitar and absolutely loves it.
Music Gear Review has a single VeeWee review -- the reviewer got one on sale for $59 to be a "Great functional non-toy guitar to let my very young kid destroy learning the basics" but had not really done much with it yet at the time the review was written.
ultimateGuitar.com has a VeeWee review with many comments.
Gibson's online forums have a discussion on tuning the VeeWee.
Finnish teen guitarist Otu's guitar collection includes a VeeWee.
Here's a video of young Anthony rocking out with his VeeWee at his dad's wedding.
Here's a video of a very young VeeWee owner happily strumming along with a favorite song.
Here's a video of 13 Stars's Matt Thompson playing a "Zakk Pakk" VeeWee.
Actually quite a few people have been uploading videos of themselves playing "Zakk Pakk" VeeWees -- just do a YouTube search for zakk veewee and you'll get a list of videos to choose from.
Here's a picture of young Declan playing his VeeWee.
Here are some pictures of Garry Parker's kids having some VeeWee fun.
Here you can see Superman Jack playing his new VeeWee at his second birthday party.
And here you can see an even younger VeeWee player.
p.s. If you look at the picture at the top of my Fender Venus page, you can see the VeeWee hanging on the wall (courtesy of a "String Swing
") in the background, though it's since moved to an adjacent wall (actually, you can see it on the current wall in this picture) as things have gotten rearranged.
Musician's Friend's "Zakk Pakk" VeeWee page
Amazon.com red VeeWee page
and "Zakk Pakk" VeeWee page
Music123.com's "Zakk Pakk" VeeWee page
The Woodwind & Brasswind's "Zakk Pakk" VeeWee page
Guitar Center's "Zakk Pakk" VeeWee page
Again, I had gotten my VeeWee on eBay. Below you can see any VeeWees currently available on eBay:
Gibson/Epiphone has now introduced a second short-scale Flying V electric guitar model called the "Maestro Mini-V", which looks pretty much identical to the VeeWee other than offering the additional color choices of blue, yellow, purple, pink, and even a "pink flowers" pattern as shown here.

Take a look at Gibson/Epiphone's product page for the Maestro Mini-V.
Here you can see a video of 13-year-old Randy rocking out on a red Maestro Mini-V.
Check out Marco A. Tejada's video review of his modified yellow Maestro Mini-V
-- scroll down to the comments section to read his description of the mods/upgrades he made to the guitar.
The only online retailer I've found selling the Maestro Mini-V so far is Amazon.com
, which is only offering them in red
, blue
, and yellow
. Though unfortunately as of March 2011 Amazon is now listing all three colors as "Currently unavailable" -- hopefully they will return at some point!
You can also find Maestro Mini-V guitars on eBay -- some up for auction and others available for "Buy it Now" instant purchase. Below you can see any Maestro Mini-V's currently available on eBay:
For a really interesting short-scale (though 22½ inches, as opposed to the VeeWee's 19) guitar variation on the classic Flying V shape, check out the Daisy Rock Debutante Star, available in both "Atomic Pink" and (as shown below) "Cosmic Purple":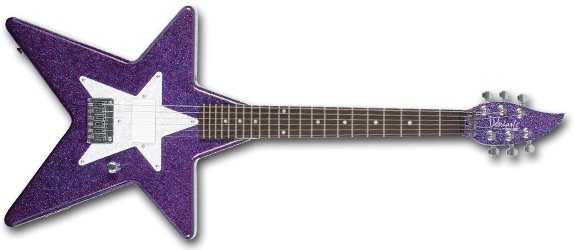 Here's a short video of a Daisy Rock representative talking about the Star series at the 2006 National Association of Music Merchants (NAMM) trade show.
See also Harmony Central's page of Daisy Rock Debutante Star user reviews.
Places to buy a Daisy Rock Debutante Star
Musician's Friend's Daisy Rock Debutante Star page
Amazon.com's Daisy Rock Debutante Star page
Music123.com's Daisy Rock Debutante Star page
ActiveMusician.com's Daisy Rock Debutante Star page
The Woodwind & Brasswind's Daisy Rock Debutante Star page
You can also find Daisy Rock Debutante Star guitars on eBay -- some up for auction and others available for "Buy it Now" instant purchase. Below you can see any Daisy Rock Debutante Stars currently available on eBay:
Copyright © 2000-2013 Tané Tachyon
Last updated August 11, 2013
Send comments, questions, etc. to tachyon@tachyonlabs.com
Return to my guitar page
Return to the Tachyon Labs home page