(This article appeared in the Sunday, December 6, 1998 Santa Cruz Sentinel)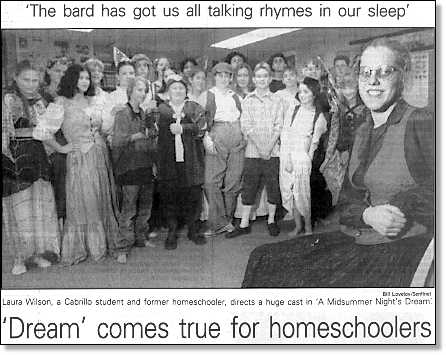 BY JESSE AUTUMN
Alternative Family Education
It's that time of year again -- play season! At least for the cast and crew of A Catch of Shadows Theater, who have been working since September under the wing of director Laura Wilson on her adaptation of Shakespeare's "A Midsummer Night's Dream."
The play, due to open Friday, is one of the director's longtime favorites, and directing it has been a highly anticipated project for Wilson, as well as producer Judy Reveaux-White and the Catch of Shadows cast.
Wilson, whose latest original production "Beyond the Ash Grove" played last spring, has baffled both friends and family with her amazing talent for balancing getting a college education with her dedication to the theater.
She has loved acting all of her life. At an early age, she began enacting scenes from folk tales as well as Shakespeare with her friends and siblings.
A Catch of Shadows was born in 1994. Since then, Wilson has directed four productions -- three of them written by her -- with the Santa Cruz City Schools homeschooling program. Her first two original plays were inspired by Celtic mythology, and "Beyond the Ash Grove" was based on the Russian folk tale of the firebird. The fourth, Shakespeare's "Twelfth Night," was staged a year ago.
I became involved with A Catch of Shadows after seeing the company debut, "Keys to Camebrien."
At first, I was most impressed with the costumes. Linnaea Boone-Wilson, Wilson's younger sister and a student at AFE, is not only the costume designer but also the costume maker and the assistant director.
Of course, the costumes weren't the only part of the play I liked. The script was well written and the characters memorable. Some of the actors I first saw on that stage are now amongst my closest friends.
The first production I was a part of was "The Gate of the Winds," which Wilson wrote. Since then, I have been involved in two more plays that she directed, and it seems like every new production tops the last.
The cast of A Catch of Shadows started studying "Dream" last year as a part of a Shakespeare class taught by Reveaux-Wright, a teacher at AFE. The cast consists largely of junior high and high school students (myself included) from Alternative Family Education. Wilson, who is attending Cabrillo College, is a former homeschooler herself.
I think the fact that we are homeschoolers is an advantage, because the actors are given the freedom to focus on the play rather than have to keep up with loads of homework. It's especially beneficial for Linnaea, who has spent nearly all her time making all of the costumes -- with little assistance.
As for the sets, the cast and crew are required to help build and paint them. Thanks to this rule, there is now a forest of stonework and shrubbery in the Wilson house.
Our version of "A Midsummer Night's Dream," when compared to Watsonville High's recent adaptation, is considerably more traditional. You'll surely see more doublets and breeches in our play than sequins and stiletto heels, and taking into account the steep stairwells behind the Louden Nelson stage, it's probably safer that way anyhow. Linnaea's costume design is based on the Renaissance period, though it was not her intention to be historically accurate.
One of the gems in the adaptation of the script is that the language has in no way been modernized. Though a few cast members who are not, I dare say, fully compatible with the language of Shakespeare were a bit disgruntled at first, they learned as they went and are now doing very well.
I can tell you from experience that the bard has got us all talking rhymes in our sleep. But learning how to speak Shakespeare isn't the biggest challenge. The real challenge for most of us is how to speak in a way that audience members can understand and relate to. In short, to act.
The six winter performances of this classic play combine all the wit, romance and magic that Shakespeare has to offer. Featuring the debut of several new actors, a comedic "play-within-a-play", exquisite costumes, a charming cast and three finale dances, this is a show not to be missed.
Come and see us at the Louden Nelson Community Center at 7p.m. Friday and Saturday this week and next, at 2p.m. Dec. 13 and Dec. 20. The suggested donation is $7, or $5 for students and seniors. We hope to see you there.
Jesse Autumn is a high school junior.
---

And here is a picture (with some of the print on the other side of the page showing through, alas) and blurb from the Friday, December 18, 1998 Santa Cruz Sentinel