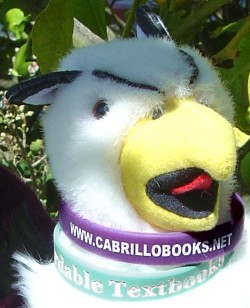 My 16-year-old Arthur just started his first class at Cabrillo College, and in honor of that I decided to feature my two Cabrillo-related wristbands — one for the Cabrillo Bookstore and the other for the Affordable Textbooks movement.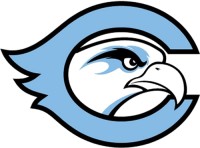 Cabrillo's mascot is the Seahawk, but as the bookstore unfortunately doesn't carry any plush Seahawks, my Reed College griffin has taken on the modeling duty here (at least they both have beaks and wings — click the above picture to see the full version) in a break from its usual "Wildlife Warriors" collar.
"The mission of Cabrillo College is to enhance the intellectual, cultural, and economic vitality of our diverse community by assisting all students in their quest for lifelong learning and success in an ever-changing world." – from the Cabrillo College Mission Statement
As a community college, Cabrillo College is a tremendous resource for the whole community, and it seems like pretty much everyone in the Santa Cruz area has taken at least one class there at one time or another, from teen homeschoolers to new high-school graduates to parents and grandparents looking for enrichment or career change. I've been taking classes there myself (most often in the form of one music class at a time) off and on since 1983, and have definitely gotten many things from the bookstore over the years, from ordinary things like books and supplies to a stethoscope for listening to my older son's heart when I was pregnant with him. For decades the bookstore was in a kind of cramped room below the cafeteria, but in 2007 it moved into a large and bright space in the new Student Activities Center. Unfortunately they no longer have the nice purple www.cabrillobooks.net wristbands as shown above (or any other Cabrillo wristbands), but back when the bookstore web site was much newer they were giving them away at the bookstore counter.
Like all college bookstores, the Cabrillo bookstore is now suffering from loss of revenue due to online sales — if, say, the bookstore is selling your Psychology textbook for $100 new or $90 used, but there are so many used copies out there that you can get one online for $8, then not many community college students are going to want to be spending possibly more than their tuition on textbooks, if there's a way to avoid it. Which brings us to the second wristband: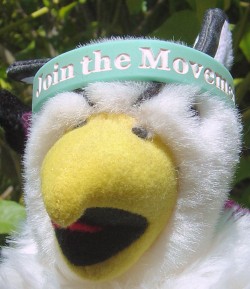 Back in 2008 some of my children's friends were making up much of the Cabrillo Student Senate (you can see two of them here), and one of the many worthy projects they were working on was affordable textbooks and textbook alternatives. One time on the bus one of them gave me this wristband with (as shown at the top of this posting) "Affordable Textbooks" on one side, and "Join the Movement" on the other. To quote from a June 2008 Facebook event posting:
As you will know if you have have bought a textbook recently, we are currently in the midst of a textbook crisis.

72% of the money students at Cabrillo College put towards their education goes to buying textbooks. Textbook costs are rising at four times the rate of inflation. There are only five main textbook companies in the US and they have a monopoly on the market. The same textbook sold in the US and the UK will cost two times as much in the US. Students are being forced to take classes without purchasing the required textbook.

Over the past semester at Cabrillo College Elowyn, Sophia, and I have been working to make textbooks more affordable through various means of alternative textbook distribution.

You have probably heard us talking excitedly about POD (Print On Demand), textbook requisitions, IPERs (Independently Published Resources), OERs (Open Educational Resources), longer adoption periods, professor checklists, petitions, customized textbooks, and the math department which has decided to use the same math textbook for all sections of math 152 for a longer adoption period.

As you may know, the Textbook Committee has decided that the best way to go about bringing all of these issues forward is to make a short documentary summarizing the problems and solutions to the textbook crisis and starring influential members of Cabrillo College faculty, administration, the board, and the student body.

We are now finished with the documentary and would like as many people as possible to watch it.
The above was for a public showing of the documentary at Cabrillo College back on June 5, 2008, including a presentation by and Q&A with the Cabrillo Student Senate Textbook Committee, but you can also watch it right here! Educate yourself about this important issue, which has been getting more critical every year!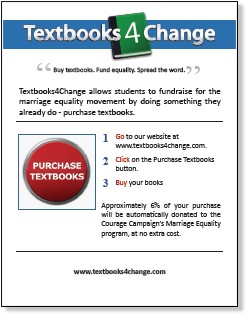 p.s. The Textbook Committee and friends were also responsible for setting up the Textbooks 4 Change web site, which donates a percentage of online textbook purchases to either The Courage Campaign (online organizing for full LGBT equality), Special Delivery San Diego (delivering meals to people living with AIDS, cancer, and other critical illnesses), or Project Pueblo (providing adequate shelter, clean water, electricity, and community resources to disadvantaged residents of the Navajo Nation while fighting against poverty and social injustice), at no added cost to the buyer. You don't have to be a Cabrillo student to use this site — anyone needing textbooks can buy them through Textbooks 4 Change to help make the world a better place, at again, no additional cost.
updated August 13, 2013