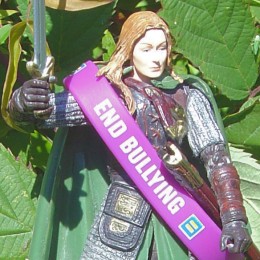 The first post I ever made to this blog was about my "SEE a Bully – STOP a Bully" wristbands, and as according to the blog stats a lot of people seem to be searching for anti- bullying bracelets, I thought I would now feature the other anti-bullying wristbands I have — these "End Bullying" ones from the Human Rights Campaign (HRC), here modeled by Éowyn (click the picture to see the full-sized version).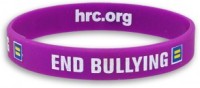 You can get these bright purple (perfect for Spirit Day, among other occasions) wristbands for $3 each from the HRC online store or at various events HRC participates in, for example their table at the 2011 Santa Cruz Pride festival featured the wristbands and some of their other products. To quote the HRC store:
"100% OF YOUR PURCHASE of the HRC End Bullying Wristband goes to HRC's fight for lesbian, gay, bisexual and transgender equality."
As you can see above, with these wristbands the message "END BULLYING" and the HRC logo are printed on rather than embossed like most other wristbands. They've been fine for me so far, but I don't know how well the printing will hold up if you're wearing them every single day.
I've already written about some of my experiences with and thoughts about bullying in my "SEE a Bully – STOP a Bully" post, so I recommend that you go read that as well if you haven't already.

What I thought I'd mention here are my mixed feelings about HRC:
On one hand, here they are the "largest national lesbian, gay, bisexual and transgender civil rights organization", but as you can see from their logo, the wristbands, the envelopes they're always sending their membership pitches in, the hats and tote bags and so on you get for joining, etc., they're also about the most closeted LGBT organization around, slapping an equals sign on everything but with not an LGBT word or acronym to be seen. And although these days they are including the T in LGBT, they have a history of transphobia, and for that matter I can remember when they pissed a lot of people off by endorsing conservative Republican Al D'Amato over liberal Democrat Chuck Schumer in the 1998 New York Senate race.
But on the other hand, well, they are the largest national lesbian, gay, bisexual and transgender civil rights organization, they do seem to do a fair amount of activism, education, and outreach, and every bit helps!
And the "End Bullying" wristbands are promoting a very good and important cause regardless of the pluses and minuses of HRC.
updated August 4, 2013