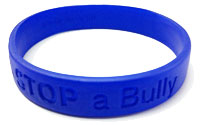 For my first post in this blog I'm going to take the LIFO route and describe the newest bracelets in my collection — two of these "SEE a Bully – STOP a Bully" anti-bully bands from the American Federation of Teachers (free for AFT members, and only a dollar each to non-members). To quote the AFT:
"When students see their teachers or anyone wearing the blue wristband, it will serve as a signal to students that they are not alone, that school is a safe haven, and that they can turn to and depend on their educators to deal with bullying or harassment."
Stopping bullying is a subject near and dear to my heart, as a parent, as a person who helps to facilitate events for young people, and as a person who was subjected to years and years of it herself: In the summer between fifth and sixth grade, my family moved from Madison, Wisconsin — in my experience a friendly and fascinating college town where I was accepted and encouraged to be myself — to a "suburban hell" area of Colorado where I immediately became a target for school bullies (of the spoiled bored rich boys variety), who kept after me all the years from sixth grade up until I graduated from high school.
All young people deserve to be treated with respect and not bullied by schoolmates, school personnel, family members, and so on. It's such a horrible thing when bullies slam down your hierarchy of needs so much that instead of being able to devote yourself to learning, planning for college, etc. your main concern in school becomes just to survive the bullying.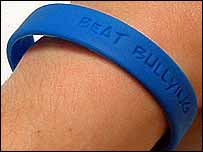 Although the "SEE a Bully – STOP a Bully" wristbands are new this year, they follow a tradition of blue anti-bullying wristbands: BBC Radio One's "Beat Bullying" wristbands were such a hit — selling 100,000 on their first day of availability alone — that it was them (rather than the LiveStrong bracelets) that really popularized "awareness wristbands" in the UK, way back in 2004.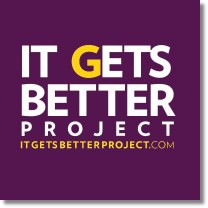 In the United States the anti- bullying movement didn't really take off until September of 2010, when columnist Dan Savage and his partner Terry Miller started the "It Gets Better Project" (no wristbands yet, but they do have "It Gets Better" shirts, hoodies, beanies, and a book) to provide hope and support for lesbian, gay, bi, trans, and other bullied teens.
"Two months later, the It Gets Better Project (TM) has turned into a worldwide movement, inspiring over 10,000 user-created videos viewed over 35 million times. To date, the project has received submissions from celebrities, organizations, activists, politicians and media personalities, including President Barack Obama, Secretary of State Hillary Clinton, Rep. Nancy Pelosi, Adam Lambert, Anne Hathaway, Colin Farrell, Matthew Morrison of "Glee", Joe Jonas, Joel Madden, Ke$ha, Sarah Silverman, Tim Gunn, Ellen DeGeneres, Suze Orman, the staffs of The Gap, Google, Facebook, Pixar, the Broadway community, and many more. For us, every video changes a life. It doesn't matter who makes it." – from the It Gets Better Project About page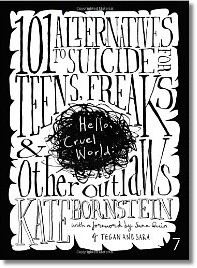 Back at the beginning of 2007 I was sitting on the floor reading Kate Bornstein's book Hello Cruel World: 101 Alternatives to Suicide for Teens, Freaks and Other Outlaws
during a break in my children's Henry IV, Part 1 rehearsal, and it was quite the eye-opener, addressing not just school bullying, but all sorts of discrimination, oppression, control, and meanness as part of a general "bully culture".
The book is among other things sort of a proto It Gets Better video (it even says "It Gets BETTER" in big letters on the back cover, and contains an illustration of a person giving an "It gets SO much better!!!" presentation) in book form, so you can easily carry the author's warm, friendly, and often outrageous voice, story, and advice around with you, or hand it to friends. (September 2012 update: I saw Kate Bornstein read/speak at Bookshop Santa Cruz last month and she was fantastic.)
p.s. I really should take my own photo of these bracelets instead of just using the AFT one, because they're actually an indigo/blue- jeans color rather than the royal blue shown at the top of the page. They're also a little translucent, and have a slight curvature instead of being just straight up and down.
p.p.s. If you're interested in anti-bullying wristbands, check out my posts on the 'End Bullying' wristbands from the Human Rights Campaign and the No Name-Calling Week 'Words Can Hurt. End the Name-Calling' wristbands as well.
updated August 8, 2013