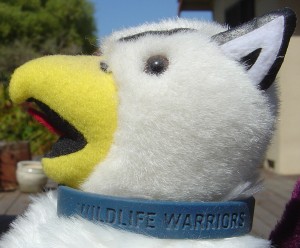 I got these "Wildlife Warriors
" wristbands when my son Arthur was mourning Steve Irwin's death, with the proceeds going to Steve and Terri Irwin's Wildlife Warriors Worldwide conservation fund.
At the time they were only being sold in the US in packs of ten by Discovery Channel/Animal Planet
, so in addition to having plenty for myself and Arthur, as shown above I also used one as a collar for my Reed College griffin* to help differentiate it from Arthur's Reed College griffins.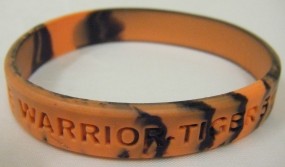 In later years they were being widely sold in Australia in "croc-colored" green instead of blue — the green ones don't seem to be available any more (though you may be able to find them on eBay
, but as shown here the Australia Zoo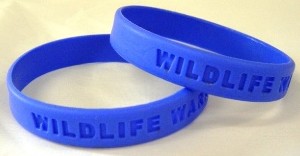 is currently selling them both in a tiger pattern specifically to help save tigers, and in bright blue (the originals were more of a navy blue).
*My son Sam just graduated from Reed College this last Monday — May 23, 2011, Phi Beta Kappa, majoring in Linguistics — and we are very proud of him as always! Reed's mascot is the griffin, and Arthur and I had gotten some stuffed ones from the college bookstore, with my one, again, wearing a Wildlife Warriors wristband as a collar.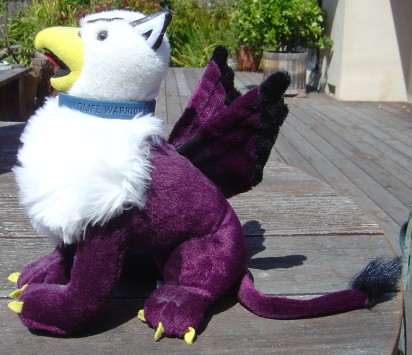 Alas, the bookstore did not have any Reed College wristbands.
updated August 4, 2013