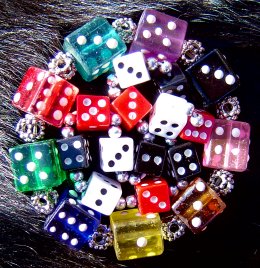 Here you see my two dice bracelets — one made of transparent jewel-tone glass dice and the other with black, white, and red plastic dice — being modeled on my cat Balor's black fur (click the picture for a larger version where you can see more Balor as well).
I got them at my local Longs Drug Store back when they used to have lots of cheap random stretchy bracelets, and before they were consumed by CVS — if you're looking for some yourself you can find lots of dice bracelets on eBay
.
They represent some things that are important to me, which I'll describe below, but I also want to be a bit of a purist here and say that although these dice beads make for pretty bracelets they would do seriously bad jobs as actual dice! Having holes drilled through them makes them into unevenly-weighted "loaded dice", the not-perfect-cubes nature of the glass ones is compounded by the pips being lampwork-style external bumps rather than indentations, and with the plastic ones the opposite sides don't even add up to seven the way real dice do — I mean, if you're going to make fake dice for jewelry, why would you not even bother to get the numbering correct?
The game of life
We have a huge number of board and card games, and they definitely were a big part of my children Sam and Arthur learning and getting comfortable with reading, math, taking turns, graciously winning, losing, and cooperating; thinking strategically and many levels ahead, socializing, being either a learner or a teacher, problem solving, improving skills with practice, negotiating, making up new rules, storytelling, exploring interests and subjects particular games were based around, manipulating objects, appreciating good design or critiquing bad design, the list goes on and on, and yes, many of them use dice, and yes, we still play them today together and with friends, even though Sam and Arthur are now 24 and 18.
AFE Games Group
For many years I've hosted the weekly Alternative Family Education (AFE) Games Group. I'm going to say a lot more about it further down the page, but for starters, here's the blurb I run in the monthly AFE Newsletter:
Come over to Classroom 2 every Friday from noon to three (or whatever part of those three hours work for you) for good times with friends old and new, and AFE's very large collection of award-winning and classic games for all ages! Bring your own games and/or snacks to share as well! The youngest among us can often be found sitting in the middle of the room playing with Lego or blocks, or outside playing tag, in addition to the games, and parents can usually be found socializing, knitting, etc. while playing games, so truly something for everyone! There is also a group of young artists who like to come and sketch and show each other their artwork in addition to playing games.
This yearbook page will give you an idea of what Games Group looks like during the school year (as usual, you can click it to see a larger version):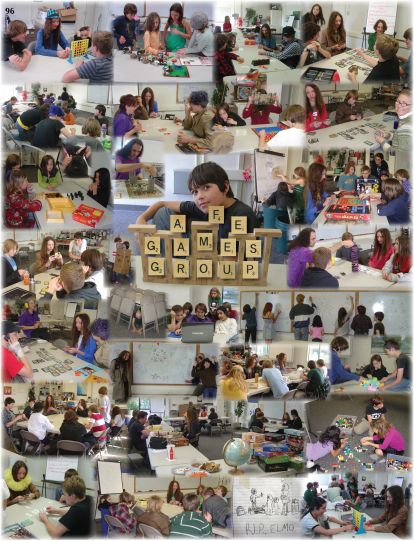 Summer Games Group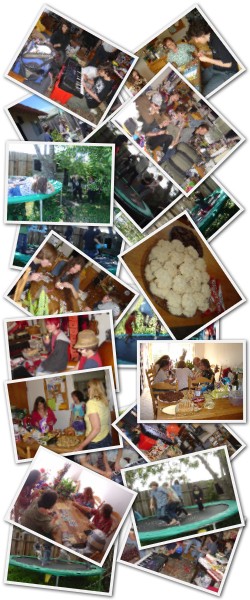 When the school year is over, then Games Group moves to our house for the summer. Once again, I'll say more further down the page, but here's an example of the notice I send out about it as the school year is ending:
Starting this Friday, June 14, drop by anytime from noon or so on, for fun and games and cookies and all that sort of thing at Summer Games Group! We have well over 150 games for all ages and interests, and you're certainly invited to bring any favorite games and/or treats*/beverages of your own that you'd like to share.

Both kids and parents are definitely welcome and looked forward to — in previous summers there has been a real mania for parents to play Bananagrams and other games on the deck, in addition to things like just hanging out with friends or lying in the sun with a cold drink. :-)

Here are some Summer Games Group photos so you can see some of the kinds of things that go on here (plus see the kids go backwards in age :-)): http://www.flickr.com/photos/tachyon/sets/72157628237077641/

*From personal experience I will say that it's a great opportunity both for showing off your favorite recipes and for trying out new recipes on a very appreciative audience. :-)
Another utopia!
In a previous entry I had written about Queer Contra Dance Camp being one of the utopias in my life, and AFE/Summer Games Group is definitely another. Specifically, an anti-bullying, community-building utopia, with a really wide range of things to do and learn, where kids of all ages (and parents, and sometimes even grandparents) can come every week to have fun and make friends, and be welcomed, appreciated, and treated with respect.
Parents get to know other parents and their children's friends, and kids get to know their friends' parents (my son Arthur will be starting college later this month, and a regret he mentioned is that making friends will no longer automatically mean making friends with the friends' parents as well).
It's great to meet and hang out with everyone, and both from the things I see myself and the thanks I get from kids and parents I know that Games Group is doing a lot of good, and has made a big difference in a lot of people's lives. In my "The game of life" section above I mentioned some of the things kids can learn from games, but a big part of it is just being able to get a lot of people together in a safe, supportive environment where people will be happy to see them.
You see so many articles these days about kids not having enough unstructured time, and Games Group really demonstrates the value of unstructured time for, again, making friends, getting to know each other better, showing each other things you're interested in, talking about what's going on with you, finding out about and trying new things, making plans, collaborating on projects, and so on.
Maybe one Friday you spend the whole three hours playing a complicated strategy board game, and the next Friday you and some others are really into working on an elaborate mural spanning three large whiteboards. Some Fridays a lot of kids will be out in the courtyard for games like ping-pong, badminton, volleyball, basketball, and ninja; and other Fridays there are big crazes for Magic: The Gathering or sitting inside a cupboard (!) playing Minecraft. One thing that pretty much always happens is that some people will go out in the courtyard to sit around a table and talk — teens in particular are going through so many big changes, and getting so busy, that it's really important to still have some unhurried time when you can just sit and talk.
Games Group attracts so many people that others have been able to build on it by adding even more cool Friday-afternoon activities/ opportunities: Jam sessions/lessons, outdoor games, hair-cutting, fingernail-painting, and bake sales in the courtyard; art workshops and "cupcake club" in another classroom, and as of the 2012/2013 school year there is now a multi-school Rainbow Alliance (LGBTQ students and friends) meeting every week immediately following Games Group.
There was a "Snack Time Never Ends " article in the New York Times a while back complaining about snacks having become almost "mandatory and constant" at kids' events these days, but as far as Games Group goes I think it's actually very important to have them: Sharing food has been an important part of gatherings throughout history and across cultures, and I think it makes people feel both more appreciated and more bonded with each other to feed one another and be fed in return.
Kids and parents make a very appreciative audience for new recipes you want to try, old favorites you want to show off, extra produce from your garden, or just some interesting thing you picked up in the store on the way there. Also, sometimes kids come to Games Group basically right after jumping out of bed or getting back from a trip or slumber party, and haven't eaten anything yet, so it's good for them to know there will be food. For that matter, sometimes even teachers step in to grab a bite when they've been too tied up in meetings to get any lunch.
I think the weekly nature is also very important, because kids can be so busy with classes, events, trips, performances, etc. — no matter what you're up to, if you're around any Friday at all, you can still spend time with your Games Group friends and not worry about missing it the way you would with a one-shot or less- frequent event.
At a PFLAG meeting last year I heard local civil rights leader/ activist Reverend Deborah Johnson bemoan the fact that there are so few places for teens to be supported in hanging out together in a positive way, where they can feel accepted for who they are by both other teens and adults — yet another thing that got me feeling fired up about my volunteer work with Games Group. :-)
Like all utopias, AFE Games Group is not to everyone's tastes — someone who prefers a very small quiet gathering may think it's gotten way too successful for its own good — but I think every child and parent (or parent/child-friendly person) should have access to something like this.
Dungeons & Dragons dice bracelets?
On one hand, I'd love to get or make a Dungeons & Dragons dice bracelet as well — all those beautiful gemlike Platonic solids! Though on the other hand, as I have never actually played Dungeons & Dragons, some people might question the appropriateness of this. But on the prehensile-tail or robotic-arm hand, as I've been the parent sponsor/supervisor at a bunch of the on and off-campus meetings of my son Arthur's D&D groups, I'd say I could proudly wear it in solidarity and support.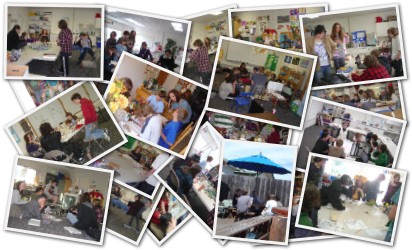 updated October 6, 2013