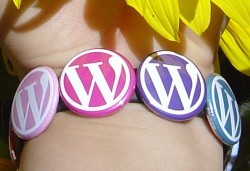 At Wordcamp San Francisco last weekend there were piles of one-inch WordPress- logo buttons in ten different colors lying around all over the place. Some people put them on their badge lanyards, backpacks, or bags, but when I noticed that the space between the pin and back of a standard one-inch pinback button is exactly the right size to fit on a silicone/rubber wristband, I took off the black "Strength" wristband I was wearing, and added one button of each color to make this multicolored WordPress bracelet. It was much admired, and an attendee from Miami took a picture of me with it.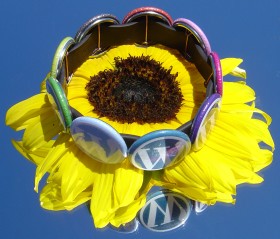 Here's an inside view of how the buttons are attached to the wristband — click either photo for a larger version. As silicone/rubber wristbands and one-inch buttons are both extremely common (some of my children's friends have camera straps, backpacks, etc. that are seriously covered with one-inch buttons for various causes and rock bands and the like), this is a very easy way to combine them for a eye-catching new look and to make yourself even more kinds of message bracelets. You can pack the buttons tightly like I did, so that the wristband is hardly visible, or if you use a smaller number of buttons with a larger spacing between them, then that looks nice as well.
I should put in a good word for Wordcamp SF (three days of amazing people, presentations, workshops, tips and techniques, ideas, etc. etc. etc., and food, for a very low price), and WordPress (what I used to make this blog) in general, so you'll see that WordPress is actually a worthy cause and deserving subject to have its own "message" bracelet:
WordPress is a very popular — powering "14.7% of the top million websites in the world" as of August 2011 — free and open-source blogging/content-management/publishing platform that anyone can use to quickly and easily create a full-featured and professional-looking blog or web site. You don't need to know any under-the-hood stuff to do this, but for many people, customizing and tinkering with their WordPress blogs/sites has been their route to learning, enjoying, and profiting from HTML/CSS and coding.

WordPress is a part of the open-source software movement that emphasizes cooperation, community, and support instead of dueling egos, and that has a particularly- large number of women involved with it. I recommend to anyone who participates in any kind of online activities that they give WordPress a try — before you know it you too may be putting up a web site for your business or an organization you volunteer with, a blog about one of your interests, and so on. Learn new skills! Promote your writing, music, art, or other creative works! Publicize causes you believe in! Help your community! Make friends and build or join more communities! Make $$$ as a web developer or by running Google Adsense or other ads! It's easy with WordPress.
I also recommend that anyone interested in or curious about WordPress go to Meetup.com and do a search for a WordPress Meetup in or near your city. At these monthly meetings you can ask questions in person and watch people demonstrating just how they did this or that with their blog or web site. I go to the Santa Cruz WordPress Meetup myself.
updated August 4, 2013