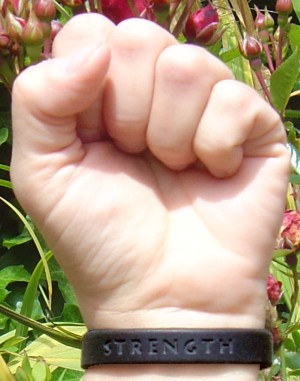 I actually wear this "Strength" wristband more than any other bracelet:
Part of this is for color coordination/ symmetry — when I go out I've got a watch with a black band on my left wrist and this black Strength band on my right wrist, so yeah, I start out with a black band on each wrist before adding any other bracelets.
But also, we need to remember every day to be strong: To keep trying to make the world a better place, to help each other, to make the effort even though we're tired, to finish what we start, to speak out for what we believe in, and so on.
I had gotten these wristbands from Oriental Trading Company, where they come in two-dozen-for-six-dollars assortments of inspirational/awareness-message bracelets. Unfortunately they're no longer making them in black, but you can still get them in purple, blue, yellow, teal, and sort of a frosted transparent glass color. Seeing as one six-dollar pack will get you either four or six (depending on the other messages in the assortment) Strength wristbands, this is definitely a bracelet to share with your friends and people you meet: I gave the one off my wrist to a guy on the bus once, and then later I ran into him working at the Safeway deli, where he thanked me again.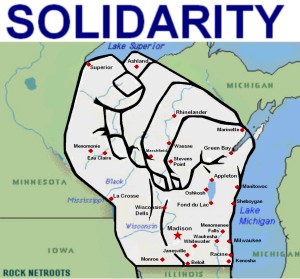 No, I am not meaning my photo above to imply that strength is a matter of fists. However, as a person who among other things had participated in last April's local "We Are One" rally honoring Martin Luther King Jr. and in solidarity with Wisconsin and other states where workers are fighting for their rights, I felt like making a fist ala Lou Kaye's "Wisconsin Fist of Solidarity" in at least one of my photos, and being that there don't seem to be any "We Are One" wristbands (actually, the solidarity fist seems to be wearing an "ILLINOIS" wristband :-)), this seemed like an appropriate enough one.
updated June 29, 2011