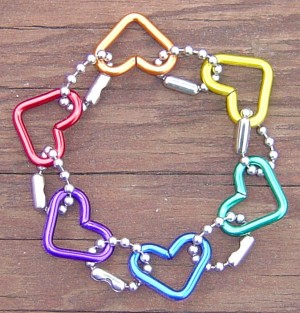 For some years part of the ritual of going to Santa Cruz Pride was checking out both the attendees and vendors to see what "this year's necklace" was. David Spada's "Freedom Rings" necklaces of six anodized-aluminum rings in rainbow colors on a ball chain were definitely the thing in the early '90′s, going on to spin off "Freedom Triangles" and "Freedom Hearts" and other versions as well.
I was very fond of Freedom Rings, among other things looping a set of them onto one of the zipper pulls on my backpack, but being more of a bracelet person than a necklace person, I also decided to redo one of the Freedom Hearts necklaces into a bracelet as shown above. To preserve the basic look of the necklace, I chopped the ball chain into small sections, and then used ball chain connector clasps from the hardware store to loop them between the hearts.
I was happy with the way the bracelet turned out, but this arrangement does make it difficult to put on — I have to undo one of the clasps to open its small loop of ball chain, then drape the opened bracelet over my right wrist, then (as a right-handed person) make multiple attempts to use my left hand to get the free ball chain section looped and clasped through the end hearts before it all falls on the floor yet again. So anyone wanting to make their own Freedom Hearts bracelet may prefer to connect the hearts with beads or knitting or some other method that would make it easier to get on and off.
You can get Freedom Rings/Hearts/Triangles at your local Pride Festival or LGBT Center, or at various other places/sites such as eBay
.
Happy pride month!
p.s. If you're a polyamory person, all the hearts would make this a good poly bracelet in addition to a pride bracelet.
updated August 4, 2013