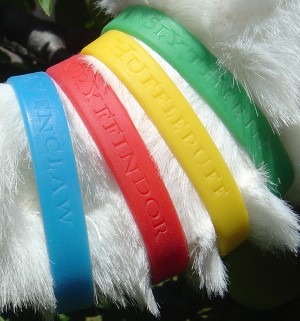 The blue, red, yellow, and green wristbands I'm wearing on the end of my sleeve in the "sword" graphic to the left are a set of Harry Potter Hogwarts House bracelets — Ravenclaw, Gryffindor, Hufflepuff, and Slytherin (and you can click the image to the right to see a larger photo of Hedwig wearing them :-)).
These were a promotional item given out at some of the Harry Potter and the Deathly Hallows bookstore midnight release parties, and have "Harry Potter and the Deathly Hallows July 21 2007″ printed on the other sides, as well as "NOT FOR SALE" and some copyright text printed on the insides. Although we did have a great time at Bookshop Santa Cruz's Deathly Hallows release party, they didn't have the wristbands, so I defied the "NOT FOR SALE" by picking up a set on eBay
.
My children definitely grew up with the Harry Potter series — getting and sometimes staying up all night reading the books as they came out, going to midnight release parties as above, dressing up as Harry for a look-alike contest and for Halloween, going to Harry and the Potters concerts, reading and writing fanfiction, seeing the movies, excitedly discussing (and roleplaying) the books with friends, following plot speculations online, and so on.
It was a very special time when we were sharing literary joy and excitement not just with friends and family but also with a good percentage of the whole world, and in honor of that I wear the wristbands to Harry Potter events, library events (here in Santa Cruz we just fought and won yet another series of battles to keep the branch libraries open), and general book and bookstore events.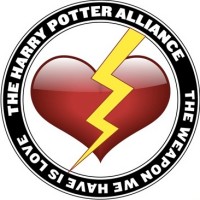 Unlike some people (for example the Harry Potter Alliance, where people join one of the four houses and earn house cup points by working for "human rights, equality, and a better world just as Harry and his friends did throughout the books"), I don't feel a strong identification with any particular one of the houses, so if I'm wearing only one of the wristbands it's just for color coordination, such as wearing a red outfit with my red Gryffindor wristband on one wrist and my red San Francisco Pride wristband on the other. I guess I'm in need of the sorting hat's services!
p.s. If the reason you came to this posting is that you're looking for some Harry Potter/Deathly Hallows wristbands to buy, you can find an awful lot of them — from the original Deathly Hallows book-release ones above to Harry Potter charm bracelets to the new Deathly Hallows movie rubber wristbands in a larger cuff-bracelets style, and so on — by doing an eBay search for Harry Potter wristbands
.
updated August 14, 2013