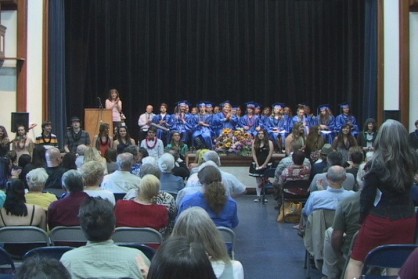 I've filmed five Alternative Family Education (AFE) graduation ceremonies, but such is my bias and my backlog that the only two graduation DVDs I've completed in a timely fashion are the two years that my own children were graduating seniors: 2006 and 2013.
This picture (which I used in my printed DVD design) shows the 2013 8th-grade graduates standing and being applauded by both the audience and the graduating seniors.
AFE is such a small and close-knit K-12 program that it spoils you for any other graduations — each graduating senior and 8th grader gets to make a speech, each senior is introduced by a teacher who talks about what they are like as a person and how wonderful it's been to work with them, and the whole community is like a family that is very proud of and cheering for its graduates. I'm not putting the whole 2013 graduation ceremony online, but if you want to see what I mean you can watch my son Arthur's graduation speech as an example.
Facebook users can also read a wonderful piece about the 2013 AFE Graduation by Santa Cruz City Schools Board of Education member Sheila Coonerty.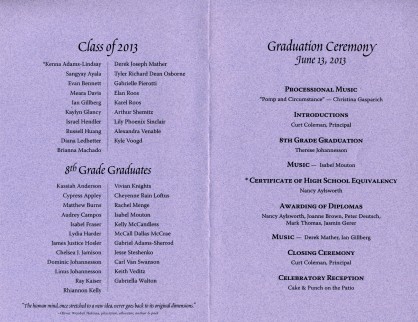 My system for producing graduation DVDs is very simple: I start by showing the outside of the graduation program, then fade into some short introductory material (for 2013, the 12th-grade graduates being applauded as they throw their caps) and then fade into the inside of the graduation program as shown here, which doubles as the chapter menu.
The first time I did this I ran into a problem in that standard definition DVDs have a limit of 36 buttons/links per menu, so instead of having each graduate's name, each presenter's name, and each event on the program linking to a chapter, I had to set it up so that clicking the 12th-Grade Graduates and 8th-Grade Graduates program sections would bring up submenus zooming in on just those parts of the program, so you could click the individual graduates' names there.
As a parent who has been involved with AFE for 20 years now, I started going to the graduations many years before I started filming them, and although they are always wonderful, I also always get choked up thinking about how much I will miss all these young people who have been part of our day-to-day lives for years and years, as they head off to different states and cities for the next chapters of their lives. Seeing them getting praised by teachers and making speeches onstage doesn't bring tears to my eyes, because those are actually pretty normal things at AFE, but watching the procession of graduates walking to the stage in their caps and gowns, or talking with them right after the ceremony, always really gets me. All the best, graduates! I will really miss getting to hang out with all of you, but look forward to hearing about your future adventures and accomplishments.
updated August 14, 2013