(Also known as "I'm Henry IV I Am" and "Music Video, Part I".)
Back in February of 2007 my children Sam and Arthur performed in the AFE/A Catch of Shadows production of Shakespeare's history play "Henry IV, Part I" (as the title character and Bardolph respectively), and I of course filmed it.
Now take the WABAC machine forward a few months to early June, when we were bemoaning not having a video to submit to the annual AFE Follywood festival of short student and family films (then fast-approaching on June 16), despite having this great play footage and having made music videos for two other plays in previous years.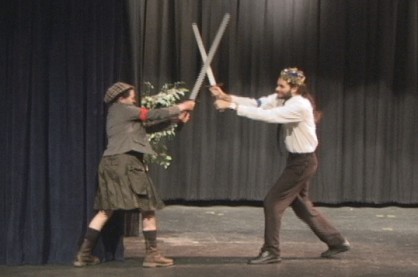 I thought of the 1965 Herman's Hermits hit "I'm Henry VIII, I Am", played it for Sam and Arthur, and then Sam really ran with it — writing the alternate "Henry IV" lyrics, making a storyboard matching up some scenes from the play with specific moments in the lyrics, even creating a "BAM!" graphic to appear when Prince Hal punches Hotspur.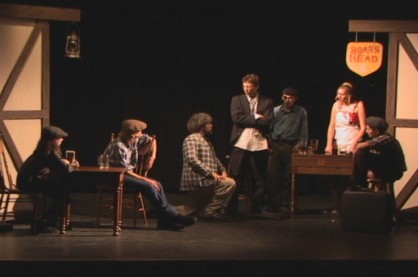 I used the bathroom as a recording studio, and my camcorder to record the audio of Sam singing the new lyrics (while listening to the original song on headphones), and then Arthur singing the backup vocals. I downloaded a karaoke track of "I'm Henry VIII, I Am" and imported that into my Sony Vegas editing software along with Sam and Arthur's vocal tracks.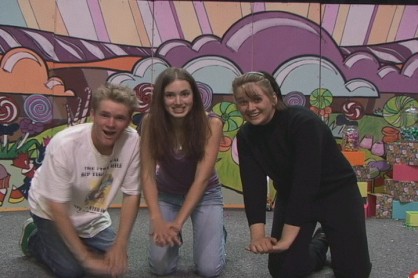 We went to a performance of "Chocolate" — a version of "Charlie and the Chocolate Factory" with outstanding original rap songs and starring some of my children's friends — where afterward Sam filmed some footage of some of the cast and crew goofing around on the set, to be used during instrumental breaks and some other key moments in our music video.
I finished editing the Henry IV, Part I, music video at 2am on June 10, and six days later it was a hit at Follywood.
Man, I need to get back to making more music videos — those were the days!
I started writing lyrics for an "It Gets Better" music video more than a year ago but unfortunately still haven't actually finished them.
updated January 19, 2012