So after finishing The Henry IV, Part I, Music Video for the 2007 AFE Follywood festival and award ceremony of short student/family films, I was asked to make a very- last- minute video honoring retiring AFE Consultant-Teacher Meg Brown, also to be shown at Follywood, where she would be receiving an award for all her years of service and inspiration to the AFE community.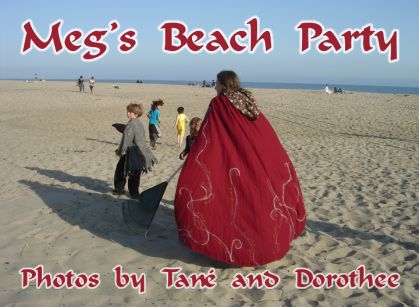 I had taken a lot of photographs at Meg's beach-bonfire retirement party (see my "My digital still camera" posting) earlier that month, as had Dorothee Ledbetter, so I decided to do the video as a slideshow set to music by Meg's longtime good friend and collaborator Joya Winwood.
For the introductory material (zooming in on the AFE Newsletter listing for the retirement party, dissolving into the title and photo-credits screen shown above, and then dissolving into the music-credit screen shown below encouraging the audience to sing along) I edited Joya's song "Joy Joy Joy" into a much shorter version with this lyrics excerpt
Joy, joy, joy
You brought me so much joy
You taught me to be me
You taught me to be free
which did a good job of summing up what Meg meant to so many people in the community.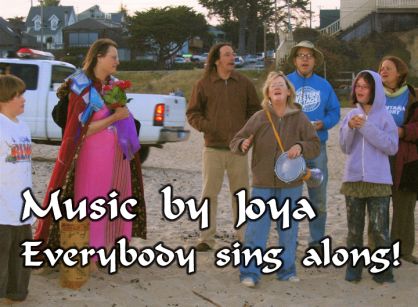 Then I did the slideshow of photos in chronological order, to Joya's version of Harry Belafonte's "Turn the World Around", using abrupt transitions rather than dissolves/crossfades, to emphasize the rhythm of the song.
(By the way, Meg is the one wearing the beautiful red cape, and Joya is singing and drumming.)
At Follywood the video was much appreciated both by the audience in general and by Meg herself, in fact every so often during the years since then Meg has told me that she's heard from yet another old friend who found the "Meg's Beach Party" video on YouTube while searching for her online.
Time flies by so fast … even if in some ways it still feels like Meg's retirement party was just the other day, on the other hand it's coming up on five years ago now, and many of the younger children in the video will be starting high school next year, while the older ones have all moved on to college and other big adventures. I'm so glad I have my photographs, film footage, YouTube movies, and completed DVDs of so many happy and memorable milestone events over the years.
The one big problem I had with this video is that no matter what I tried I just could not get the zoom-and-pan-in on the newsletter notice at the beginning to work smoothly without flickering (I haven't had a problem using this with photos, just with the black-on white text). Hopefully at some point I'll find the solution to this problem and then upload a corrected version to YouTube.
updated August 14, 2013