Those times when you do a photo shoot with your cats to show off the new two-sided promo cards you just did for your latest Android app, but then can't decide which photo you want to use. 😸
Following my experience with making double-sided Kitty Todo promo business cards with QR codes last year, earlier this month I did the same for Emoji Cats Word Guess, being modeled above by Kitty Todo's "Big Cat" Mustache Cat and "Small Cat" Oswald.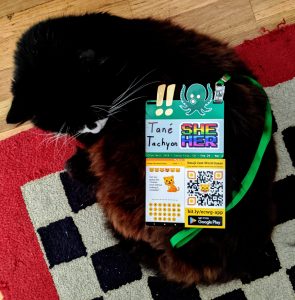 One thing I sometimes do with my app promo cards is attach two of them to my badges at tech conferences, such as the one Mustache Cat is modeling from this last weekend's wonderful !!Con West.
This year the !!Con West badge itself is a PCB (printed circuit board), not because there are any electronics on it, but because the price of custom PCBs has gotten so cheap that they seem to be a simple way for people who don't have access to laser cutters to fabricate certain types of objects. Though if like me (but unlike the conference organizers) you're in the Santa Cruz area for more of the year than just conference weekend, you should come check out the laser cutters and other awesome stuff and people at Idea Fab Labs, the maker/hacker/art-space I volunteer at every Tuesday.