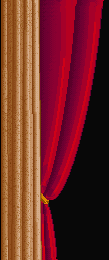 Sam has appeared in the plays Gate of the Winds (Spring 1997), Beyond the Ash Grove (Spring 1998), A Midsummer Night's Dream (December 1998), Fortune's Wheel (May 1999), "The Fourth Wonder" (May 2000), Keys to Camebrien (May 2001), and Inisfail (May 2002).
When Sam was nine he also wrote a short play, Golden Prince and Golden King, to perform with his little brother Arthur.

This page needs a lot of updating, but Sam is currently a member of a film-making group called Infallibull Productions.