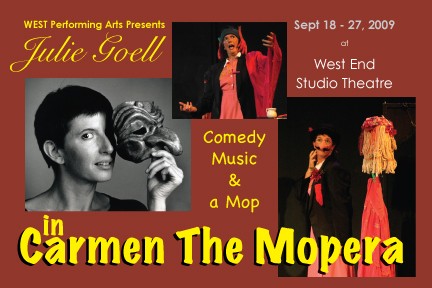 I did this filmmaking/DVD project on commission for West End Studio Theatre, where "internationally acclaimed Eccentric and Commedia Dell'Arte performer" Julie Goell was doing a two-week residency teaching workshops in addition to performing in her one-woman show Carmen the Mopera, described as "backstage at the Opera House, a passionately imaginative restroom matron uses her arsenal of cleaning supplies to put on her own zany rendition of Bizet's Carmen".
I hadn't seen the show prior to filming it last Saturday night, but after asking how long the performance would be (just over an hour) did make a point of getting advance notice of what would be a good spot to change the tape — always a major concern with hour-long mini-DV tapes and any event that lasts more than an hour without an intermission.
In terms of technical matters the filming went very smoothly, both for the dreaded tape-change and (as with the general "the more I do it the better and faster I get" rule for filmmaking and most everything else in life) having a good sense of how the action was developing and when I could and couldn't zoom in for close-ups even though I hadn't seen the play before.
In terms of filmmaker comfort, however, I have never felt so awful when filming before — we were at the tail end of a little heatwave, and somehow the inside of the theater was like an oven and I was sitting there with my shirt plastered to me with sweat, very acutely aware of each minute going by on my camcorder display. The heat was so bad that afterward I found myself enjoying watching the show much more when I was sitting in a cool room editing the footage than I had when I was seeing it live but feeling like a salted slug.
To repeat the "the more I do it the better and faster I get" rule a second time, as often happens these days I find myself planning/designing the DVD structure/menus/printed graphic at the same time that I'm doing the filming. One thing I expect to be mentioning a lot in this blog is my love for incorporating what it amuses me to call "found objects" into the DVDs I produce, with my particular usage of the expression "found objects" in filmmaking and DVD production referring to things like posters and programs that were an integral part of anticipating and attending the actual events but that are afterward generally lost to history. For this project I used the postcard that had been mailed out to promote the show for the DVD menu as shown below, and also printed it as a tiled image on the finished DVDs.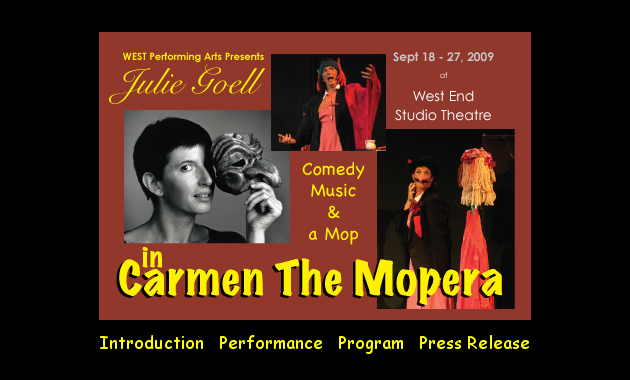 I felt very amused to have a legitimate reason to use the notorious Comic Sans MS for the menu-options text — matching the font color and size of its use on the postcard!
And for more of the "found objects" department, selecting "Program" on the DVD menu lets you page through the show's program, whereas selecting "Press Release" gives you a one-minute-long scroll/stroll through the press release, with Julie Goell's acapella version of the Carmen Overture for accompaniment.
And to close with a third repeat of the "the more I do it the better and faster I get" rule, I'm feeling very happy right now that Carmen the Mopera is not only the fourth filmmaking/DVD project I've completed this month, but also the second I've completed this week (and here it is only Wednesday, or it was when I started writing this at least!), both of which are indeed records for me, and hopefully biding very well for getting back to finishing up more of my large backlog of footage in addition to steadily-faster turnarounds on new projects.
updated August 14, 2013